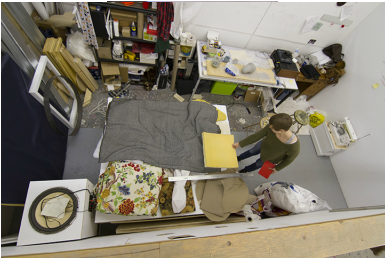 ABOUT

Marianne Burlew is an installation artist whose work focuses on themes of embodiment and the senses through video and sculpture. She recently received her MFA from the University of Waterloo. Here she was able to complete internships with artists Saskia Olde Wolbers and Anne Hardy in London (UK) through the Keith and Win Shantz scholarship. Prior to her return to school, Burlew participated as an artist-in-residence in the textile studio at the Harbourfront Centre for two years. Burlew earned her BFA from York University. She has exhibited around southern Ontario in such galleries as the Idea Exchange, Red Head Gallery, the Harbourfront Centre, the Gladstone Hotel, Craft Ontario Gallery, and the Mississauga Living Arts Centre. Her work is part of three private collections as well as the Fibre Art Collection of The Idea Exchange, Cambridge.




---
---
Upcoming Exhibitions
inPROCESS
November 10 - December 4, 2016
Vernissage: November 10, 6-8pm
Wallspace Gallery
358 Richmond Rd. Ottawa, ON K2A 0E8
WALL SPACE Gallery is pleased to announce inPROCESS, an exhibition featuring works by Marianne Burlew, Heidi Conrod and Molly Mask. Through painting, drawing, assemblage, collage and sculpture, each artist demonstrates a deep understanding of material and process.
For more information, click
HERE
.
---